【Brief Introduction】
From the southern-most end of Mainland China, Xuwen county of Zhanjiang in Guangdong Province, the Dragon's Pearl was founded in 1999 and gained its fame with a base and a factory in the North Gulf of the South Sea. With a great number of outstanding experts in the related field, Dragon's Pearl is pound of its best source of akoya and most advanced procedures.
Dragon's Pearl provides various pearls: Chinese Akoya pearls, Freshwater pearls, Tahitian black pearls, South Sea white pearls and golden pearls in all styles including necklaces, bracelets, rings, earrings, pendants and other embed products. The rights of importing and exporting are justified in Zhanjiang Port and the Shenzhen Port.
With focus on quality and service, Dragon's Pearl has won trust from its customers and established a strong relationship with its partners all over the world. Such an overall success serving as an impetus, Dragon's Pearl will surely speed up it paces in pursuing the value and essence of pearls with a strong sense of concentration, profession and persistence.
【Why Dragon's Pearl?】
Supported by our culturing base, which is one of the biggest in China, our factory and Shenzhen head office in Shuibei Jewelry Commercial District, Dragon's Pearl is confident in our ability to provide high-quality pearls and pearls jewelries at a most competitive price.
Dragon's Pearl also plays an active role in attending the most professional jewelry fairs both at home and abroad in order to deliver the latest information about jewelry fashion and our products to you.
For nearly eight years, Dragon's Pearl has been making efforts to improve the structure and operation of our website
www.pearlcn.com
. So when you want to buy pearls on our website, you can make an informed decision with the help of clear pictures, practical instruction and plain pearl knowledge.

Now Dragon's Pearl has developed into a professional pearls supplier and our brand is spreading its influence all over the world.
Without glorious advertisements, we earn our approval in this industry with great efforts. A team of outstanding experts, a set of strict grading standards, a good assortment of goods and a complete range of sizes and qualities, all these contribute to our success. Faithful service is the highlight of Dragon's Pearl. To meet you satisfaction is the priority of our service!
Each product in Dragon's pearl has its specific number. By searching it on the top left corner on the website, you can get its concrete description including its quality, fittings, price and so on.
Products in Dragon's Pearl are all carefully handmade and excellently designed, embodying the additional value of our jewelries. When you inspect the golden line connecting the clasp and the knots between the pearls, you will feel the true value of Dragon's Pearl.
Dragon's Pearl is pursuing to be a brand carrying the spirits of our nation, culture and classics. We hope to deliver these spirits to you with the fashionable band and to bring you a gorgeous and shining look.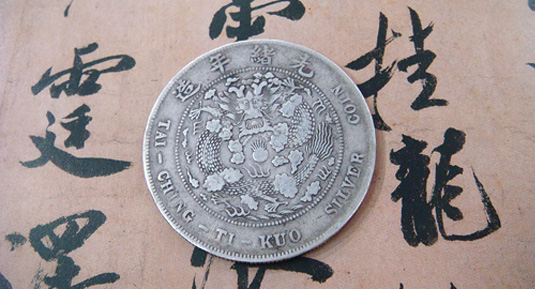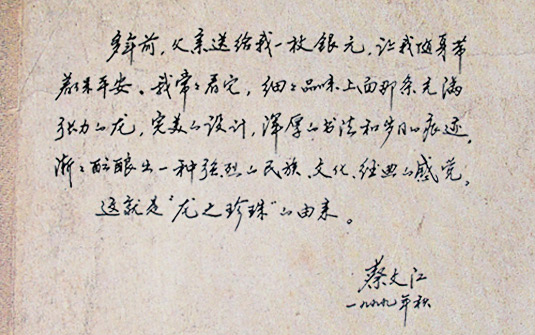 Some years ago, my Dad gave me a vintage coin with which I carry all along. I usually look at it with
a whole-hearted appreciation. The perfect design, the exquisite calligraphy match so well with the
powerful dragon engraved on it, all of which reflects a glorious radiance that is natural, cultural and
classical.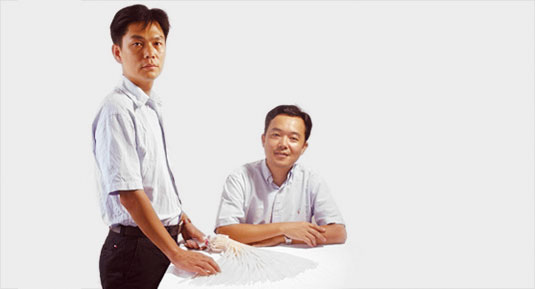 General Manager Cai wuzhi(left) ,Chairman Cai(right)